Pollination
Agriculture depends greatly on the honeybee for pollination. Honeybees account for 80% of all insect pollination. Without such pollination, we would see a significant decrease in the yield of fruits and vegetables.
Pollen
Bees collect 66 lbs of pollen per year, per hive. Pollen is the male germ cells produced by all flowering plants for fertilization and plant embryo formation. The Honeybee uses pollen as a food. Pollen is one of the richest and purest natural foods, consisting of up to 35% protein, 10% sugars, carbohydrates, enzymes, minerals, and vitamins A (carotenes), B1 (thiamin), B2 (riboflavin), B3 (nicotinic acid), B5 (panothenic acid), C (ascorbic acid), H (biotin), and R (rutine).
Honey
Honey is used by the bees for food all year round. There are many types, colors and flavors of honey, depending upon its nectar source. The bees make honey from the nectar they collect from flowering trees and plants. Honey is an easily digestible, pure food. Honey is hydroscopic and has antibacterial qualities. Eating local honey can fend off allergies.
Beeswax
Secreted from glands, beeswax is used by the honeybee to build honey comb. It is used by humans in drugs, cosmetics, artists' materials, furniture polish and candles.
Propolis
Collected by honeybees from trees, the sticky resin is mixed with wax to make a sticky glue. The bees use this to seal cracks and repair their hive. It is used by humans as a health aid, and as the basis for fine wood varnishes.
Royal Jelly
The powerful, milky substance that turns an ordinary bee into a Queen Bee. It is made of digested pollen and honey or nectar mixed with a chemical secreted from a gland in a nursing bee's head. It commands premium prices rivaling imported caviar, and is used by some as a dietary supplement and fertility stimulant. It is loaded with all of the B vitamins.
Bee Venom
The "ouch" part of the honeybee. Although sharp pain and some swelling and itching are natural reactions to a honeybee sting, a small percentage of individuals are highly allergic to bee venom. "Bee venom therapy" is widely practiced overseas and by some in the USA to address health problems such as arthritis, neuralgia, high blood pressure, high cholesterol and even MS.
OTHER BITS OF INFORMATION
Honeybees are not native to the USA. They are European in origin, and were brought to North America by the early settlers.   Honeybees are not aggressive by nature, and will not sting unless protecting their hive from an intruder or are unduly provoked.
Honeybees represent a highly organized society, with various bees having very specific roles during their lifetime: e.g., nurses, guards, grocers, housekeepers, construction workers, royal attendants, undertakers, foragers, etc.
The queen bee can live for several years. Worker bees live for 6 weeks during the busy summer, and for 4-9 months during the winter months.
The practice of honey collection and beekeeping dates back to the stone-age, as evidenced by cave paintings.
The honeybee hive is perennial. Although quite inactive during the winter, the honeybee survives the winter months by clustering for warmth. By self-regulating the internal temperature of the cluster, the bees maintain 93 degrees Fahrenheit in the center of the winter cluster (regardless of the outside temperature).
Queen Bee
There is only one queen per hive. The queen is the only bee with fully developed ovaries. A queen bee can live for 3-5 years. The queen mates only once with several male (drone) bees, and will remain fertile for life. She lays up to 2000 eggs per day. Fertilized eggs become female (worker bees) and unfertilized eggs become male (drone bees). When she dies or becomes unproductive, the other bees will "make" a new queen by selecting a young larva and feeding it a diet of "royal jelly". For queen bees, it takes 16 days from egg to emergence.
Worker Bee
All worker bees are female, but they are not able to reproduce. Worker bees live for 4-9 months during the winter season, but only 6 weeks during the busy summer months (they literally work themselves to death). Nearly all of the bees in a hive are worker bees. A hive consists of 20,000 – 30,000 bees in the winter, and over 60,000 – 80,000 bees in the summer. The worker bees sequentially take on a series of specific chores during their lifetime: housekeeper; nursemaid; construction worker; grocer; undertaker; guard; and finally, after 21 days they become a forager collecting pollen and nectar. For worker bees, it takes 21 days from egg to emergence. The worker bee has a barbed stinger that results in her death following stinging, therefore, she can only sting once.
Drone Bee
These male bees are kept on standby during the summer for mating with a virgin queen. Because the drone has a barbed sex organ, mating is followed by death of the drone. There are only 300-3000 drones in a hive. The drone does not have a stinger. Because they are of no use in the winter, drones are expelled from the hive in the autumn.
Mites
The greatest threat to beekeeping are two varieties of mites (Varroa and Tracheal). And although these mites can be kept under control by a persistent beekeeper, the negative effects on the honeybee population has been devastating. The Back Yard Beekeepers Association surveyed its membership and learned that over 40% of the membership's hives died in 1996. These mites are greatly reducing the overall honeybee population in the USA. The mites are of no concern to humans, except for the effect they can have on honey production.
Disease
Beekeepers are on the watch for various diseases unique to honeybees, and harmless to humans. "Foul Brood" and "Nosema" are two such diseases. These problems can easily be addressed by good management and proper medication.
Urbanization
With more and more urban development and the growth of cities, there is less and less foraging available to bees. However, areas like Fairfield County contain a rich assortment of nectar and pollen for honeybees, thanks to homeowners' gardens and the lush, wooded countryside.
Africanized Bees
The arrival of so-called "killer bees" in a few southern states has received sensationalized treatment in the media. In some areas of the country, this negative publicity has stimulated local restrictions and ordinances on the hobbyist beekeeper.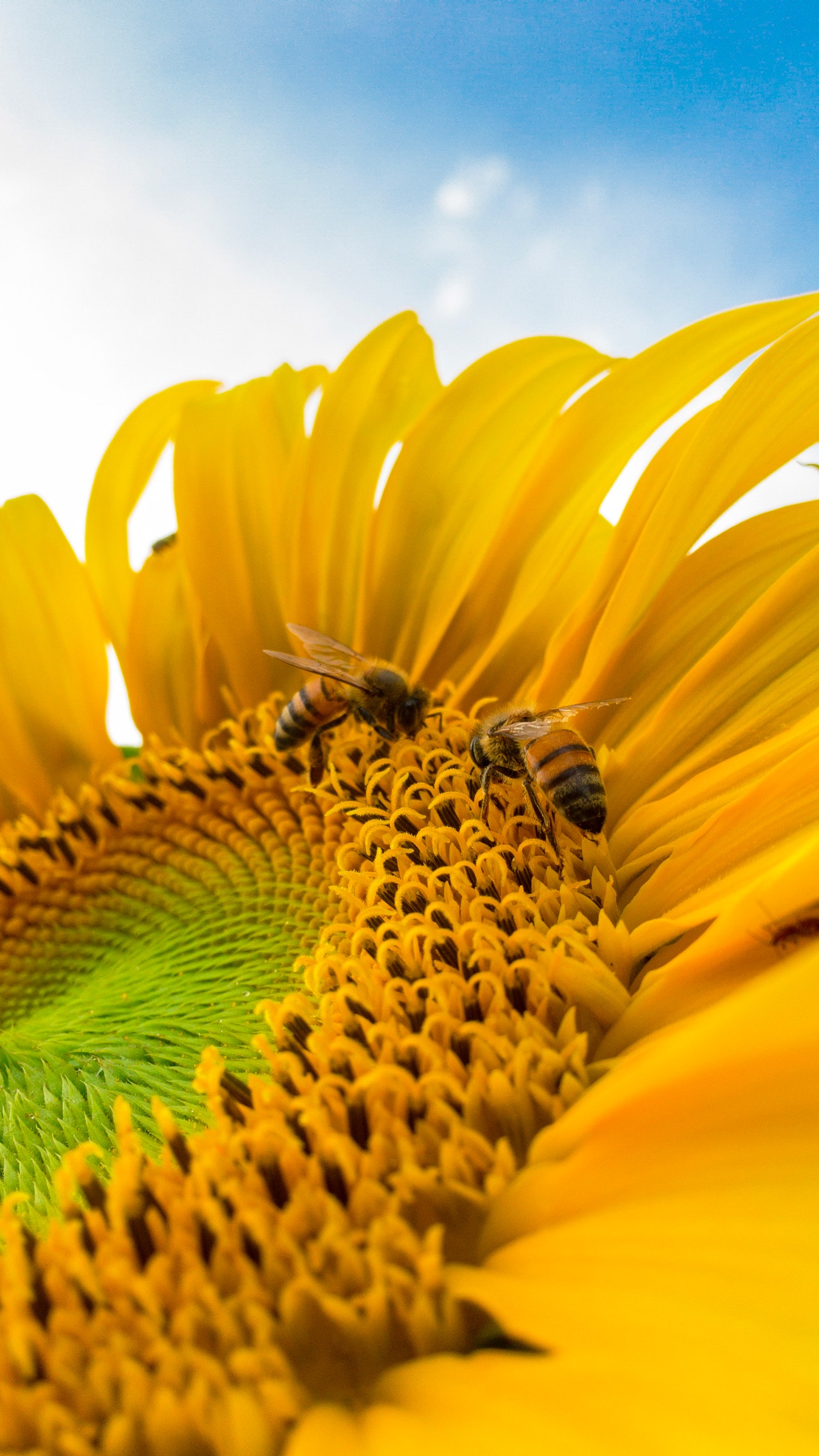 Royal Jelly is the substance that turns an ordinary bee into the Queen Bee. It is made of pollen which is chewed up and mixed with a chemical secreted from a gland in the nursing bee's heads. This "milk" or "pollen mush" is fed to all the larvae for the first two days of their lives. The larvae chosen to become a queen continue to eat only royal jelly. The queen grows one and a half times larger than the ordinary bee, and is capable of laying up to two thousand eggs a day. The Queen Bee lives forty times longer than the bees on a regular diet. There is no difference between a queen bee and a worker bee in the larval stage. The only factor that is different between them is that a developing queen bee continues to eat only royal jelly. Scientists decided to try feeding the queen bee's diet to other animals with surprising results. The life spa of pigs and roosters showed as much as a thirty- percent increases. Fruit flies fed royal jelly increased in size and in rate of production. Chickens given royal jelly laid twice as many eggs, and older chickens began to lay again.  In France, there have been reports of women fed royal jelly during menopause, showing complete remission of their symptoms. Some were even able to become mothers again. France also claimed that their studies showed royal jelly to have rejuvenating and sexually stimulating effects on both men and women. Canada has approved royal jelly as a natural dietary supplement for its athletes. Royal jelly is not a drug, but a nutritious, quickly assimilated food.
In Germany, Drs. Chochi, Prosperi, Quadri and Malossi (in separate studies) used royal jelly as an aid to badly undernourished and premature babies. The infants fed royal jelly increased in weight and health. Another doctor, Telatui, reported that neuro-psychic patients given royal jelly regained normal weight, a more stable nervous system, and a greater degree of stamina for physical and mental work.
Chemical analysis of royal jelly found it rich in protein and the B vitamins (especially panothenic acid). However, analysis of royal jelly fails to break it down into all its different components. It cannot be synthesized.
Royal jelly has proven to be a potent bactericide. It also acts as a catalyst, stimulating intercellular metabolic activities without significantly modifying normal physiological activity. Thus, it hastens cell recovery with no side effects. Royal jelly has been known to speed up healing of wounds and to reduce the amount of scarring.
The beneficial effects of royal jelly seem not to depend entirely upon its vitamin content, but upon some type of enzymatic or catalytic action of an as yet unknown factor; or perhaps, the known factors working in combination with a co-enzyme through a process that has not yet been defined.
Since the action of royal jelly seems to be systemic rather that one which affects a specific biological function, it has been recommended for a great variety of purposes: to retard the aging process, for menopause, correction of under-nutrition, for arthritis, vascular diseases, peptic ulcers, liver ailments, nervous instability, skin problems, improvement of sexual functions, general health and well being.
Beeswax:
waxy material produced by worker bees and used to build combs.
Drones:
Male bees, whose main function in the colony is to fertilize the queen. Drones make up a very small percentage of the total colony. In the Autumn drones are expelled from the hive by the female worker bees.
Foundation:
Thin sheets of beeswax imprinted with a pattern of honey comb. The beekeeper installs these sheets into wooden frames as "starters" for the bees in making uniform combs.
Frames:
The removable wooden structures which are placed in the hive. The bees build their comb within these frames. The removable quality allows the beekeeper to easily inspect the colony.
Hive Bodies:
 The first one or two wooden boxes of the colony. The hive bodies contain the brood nest of the colony.
Workers:
Completely developed female bees that do have developed ovaries and do not not normally lay eggs. They gather pollen and nectar and convert the nectar to honey. A worker's life expectancy is only several weeks during the active summer months. However, they can live for many months during the relatively inactive winter period.
Nectar:
Sweet fluid produced by flowers is 60% water and 40% solids. This is collected by the bees and converted into honey at 17 -18% moisture content.
Propolis:
Sticky, brownish gum gathered by bees from trees and buds and used to seal cracks and drafts in the hive. Also called "bee-glue".
Pupa:
The immature form of the bee (following the larval stage) while changing into the adult form.
Queen:
A completely developed female bee (with functioning ovaries) who lays eggs and serves as the central focus of the colony. There is only one queen in a colony of bees. A queen's productive life span is 2-3 years.
Royal Jelly:
The milky white secretion of young nurse bees. It is used to feed the queen throughout her life, and is given to worker and drone larvae only during their early larval lives.
Supersedure:
When a colony with an old or failing queen rears a daughter to replace her.
Larva:
The grub-like, immature form of the bee, after it has developed from the egg and before it has gone into the pupa stage.
Our general membership meetings are held on the last Tuesday of most months at 7:30 PM at the Norfield Church in Weston, CT.
Please see our Calendar of Events for details.

64 Norfield Rd
Weston, CT 06883
Workshops - 2022
Please note: BYBA workshops are open to members and their guests.
Additional workshop information will be posted soon.
TBD , 2022
Workshops - 2021
Please note: BYBA workshops are open to members and their guests.
Additional workshop information will be posted soon.
TBD , 2021 Hive Setup & Bear Fence BYBA Board
March , 2021 CSI: Dead Out - Why Did They Die?
April , 2021 Hiving Package Bees - Hive Inspection #1
September 25, 2021 Winter Prep Workshop w/ David Blocher & Rick Glover
Workshops - 2020
Please note: BYBA workshops are open to members and their guests.
Additional workshop information will be posted soon.
Sunday, February 23, 2020 Hive Setup & Bear Fence BYBA Board (Norfield Grange, Weston, 11am)
Saturday, March 14, 2020 CSI: Deadout David Blocher (BYBA Bee Yard, Easton, 11am)
Sunday, April 5, 2020 Hiving Package Bees & 1st Inspection Ellen Zampino (BYBA Bee Yard, Easton, 11am)
Monthly Meetings - 2021
February 23, 2021 Rose-Lynn Fisher: Bee, via Zoom
March 30, 2021 Robyn Underwood - COMB Project
April 27, 2021 Jennifer Berry - TBD
May 25, 2021 Sam Comfort - The Good, The Bad, and the Bugly: Recent efforts to simplify a complex bee world
June 29, 2021 Ice Cream Social at LaChat Farm
July 27, 2021 Dan Conlon - Queen Assessment
September 28, 2021 Mary Duane - Honey Judging
October 26, 2021 Nick Hoefly of Astor Apiaries - Beekeeping in the Big Apple
November 30, 2021 Michael Lund - Building your own Equipment
Monthly Meetings - 2020
February 25, 2020 David Tarpy: Coming out of Winter
CANCELED: March 31, 2020 Dan Conlon: Looking for Queens in all the Right Places
CANCELED: April 28, 2020 Anthony Planakis: NYC Bees, A Day in the Life
CANCELED: May 19, 2020 Wyatt Mangum: Topic TBD
CANCELED: June 30, 2020 Dinner & Silent Auction
CANCELED: July 28, 2020 Dan Conlon: Looking for Queens in all the Right Places
September 29, 2020 Tammy Horn: Beeconomy, Women and Bees, and Trade/Global Markets
October 27, 2020 Patty Pulliam & Ellen Zampino: Cleaning and Crafting with Beeswax
November 17, 2020 Howland Blackiston: Mead Making
Monthly Meetings - 2019
January 29, 2019 Jamie Ellis: The Indispensible Nuc
February 26, 2019 Aaron Morris: Masterful Beekeeping
March 26, 2019 Sam Ramsey: Varroa Mites
April 30, 2019 Ed & Marion Szymanski: Planting for Pollinators / Neighborhood Mite Monitoring
May 21, 2019 Grai St. Clair Rice: Bees in the Garden, a Dance with Evolution
June 25, 2019 Dinner & Silent Auction
September 24, 2019 Kim Flottum: Second Season
October 29, 2019 Katie Lee: Queen-Rearing – Selecting Breeder Colonies
November 19, 2019 (was November 26) Larry Connor: The Increase Nucleus as Support Hive in the Backyard Apiary and the Bee Breeding Program
Monthly Meetings - 2018
January 30, 2018 Howland Blackiston: JeoparBee
February 27, 2018 Kirsten Traynor: Over The Atlantic: European Intensive Hive Management
March 27, 2018 Christy Hemenway: Top Bar Hives
April 24, 2018 Roberta Glatz: The Biology of Swarming
May 22, 2018 Peter Borst: Harvesting Honey, Let Me Count the Ways
June 26, 2018 Pot Luck Dinner and Silent Auction
September 25, 2018 Richard Cowles: The Queen of Your Dreams
October 30, 2018 Dewey Caron: Working toward Natural/Treatment-free Colony Management
November 27, 2018 Bill Hesbach: Over-wintering
Monthly Meetings - 2017
January 31, 2017 Sharp Eatman: Wild bees
February 28, 2017 Aaron Morris: Topic TBA
March 28, 2017 Carl Jurica: Raising local queens
April 25, 2017 Frederique Keller: Apitheraphy
May 23, 2017 Christina Grozinger: Partnering with beekeepers
June 27, 2017 Dinner & Silent Auction Meeting
September 26, 2017 Tom Seeley: Honey bees in the wild
October 31, 2017 Kirk Webster: The Evolution of Darwinian Beekeeping.
November 28, 2017 Jennifer Berry: Varroa Virulence
Monthly Meetings - 2016
January 26, 2016 Alison Gillespie, author: Hives in the City
February 23, 2016 Jonathan Snow, PhD. Barnard on Housewarming: Thermoregulation in Honey Bee Colonies
March 29, 2016 Dr.John Boyce M.D., Yale on Honey as Medicine
April 26, 2016 Roberta Glatz, NYS, on Bee Stings & What You Can Do About It
May 24, 2016 James Wilkes on Hive Tracks: Using Technology for Record Keeping
June 28, 2016 Dinner & Silent Auction
September 27, 2016 Anne Frey on Mistakes in Beekeeping
October 25, 2016 Brenna Traver, Penn State, on Honey Bee Pathogens
November 15, 2016 Jennifer Tsuruda, Clemson, on Behavioral resistance to Varroa
Monthly Meetings - 2015
January 27, 2015 Sam Droege (meeting cancelled due to snow.)
February 24, 2015 Dr. Meghan Milbrath on Keeping a Healthy Hive
March 31, 2015 Izzy Hill on beneficial nematodes for small hive beetle control
April 28, 2015 Sam Droege on The Glorious Diversity of Other Bees.
May 26, 2015 Wyatt Mangum Ph.D on Queen Introduction
June 30, 2015 Dinner & Silent Auction Meeting
September 29, 2015 Juliana Rangel Posada on Reproductive Biology of Honey Bees
October 27, 2015 Sam Comfort on Future Zombee Apocalypse
November 17, 2015 Michael Fairbrother of Moon Light Meadery on Mead