Anthony Planakis – NYC Bees: A Day in the Life
*** We will reschedule Tony just as soon as we can ***
Stories and images of the various jobs that Tony responded to over his years with the NYPD.
He will also share his favorite beekeeping tips, tricks, equipment modifications, and things he learned through the years of watching and working with bees.
About the Speaker

Born and raised in East NY Brooklyn, 1962.  First experience with bees (not a good one) 1971-2 in the Island of Crete, Greece.  Hands on 1977-present, except for a break from 1986-89 when serving in the US Army.
Currently operating 3 hives in Rego Park Queens, downsized from 10.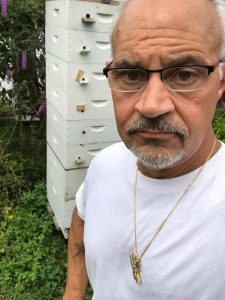 Join members of the 300+ strong Back Yard Beekeepers Association in a course designed to provide the complete novice with all the information needed to get started keeping bees this spring.
Our general membership meetings are held on the last Tuesday of most months at 7:30 PM at the Norfield Church in Weston, CT.
Please see our Calendar of Events for details.

64 Norfield Rd
Weston, CT 06883