Hiving Package Bees & 1st Inspection
Join members of the 300+ strong Back Yard Beekeepers Association in a course designed to provide the complete novice with all the information needed to get started keeping bees this spring.
Hiving Package Bees & 1st Inspection
This workshop will NOT be held, due to Coronavirus restrictions on gatherings.
We are working on an alternative to hands-on workshops, so please stay tuned for more information.  Thank you.
Location: BYBA Bee Yard, Easton, CT
Time: 11:00am
Ellen Zampino will demonstrate how to hive package bees at the BYBA bee yard at Trout Brook Valley, near Aspetuck Orchards Apple Barn. This workshop will provide a hands on opportunity to learn proper techniques for transferring a package of live honeybees into a new hive.
We also plan to check a hive of bees where a package was installed a week prior, so you can also see how to do the 1st inspection a week after installation.
It may be a little muddy. Bring a veil. If it's pouring we'll do it anyway!  Starts at 11am. Contact Ellen at (203) 981-0611 or jazampino3@aol.com
Click here for information on the BYBA Bee Yard.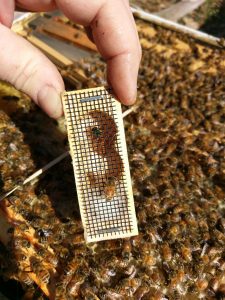 Our general membership meetings are held on the last Tuesday of most months at 7:30 PM at the Norfield Church in Weston, CT.
Please see our Calendar of Events for details.

64 Norfield Rd
Weston, CT 06883