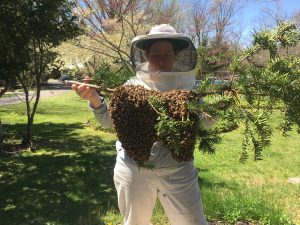 Interviewees:  Patricia Pulliam and Serge Boyce
Interviewer: Tammi Worsham
March 14, 2022
Tam: Hi.  Its nice to meet you both!  In person would be better, but maybe that will be possible soon!  I'd like to start out with how you both became involved in beekeeping.
Patty: We lived in Brooklyn before 1994 and we had a rooftop garden there.  We were interested in pollinators, but ended up moving to Fairfield for work.  Ed Weiss sold honey in a local gourmet store BEFORE artisanal products had become part of THE vernacular.  After he published The Queen and I, we bought it and read it to each other.  Since we originally wanted to do bees in Brooklyn, moving here gave us an opportunity to definitely do this here.
Serge: Ed got us started.  He was running a bee supply business out of his basement.  He and Anita, his wife, worked together.  They were in their late 60s – maybe 70's? Patty? It was a hobby that turned into a business.  He had a mentor that got him started in Bethel.  She told Ed that he should get more involved and mentor people and maybe start a club, then she retired.  Ed and Anita started mentoring us – a pair mentoring a pair.  He, Anita, and a few other customers of his started a bee club that evolved.  There was a sort of second evolution of the club that turned into the BYBA.  This was a group of like-minded people that got together to form a HOBBY beekeepers association.  Ed suggested that we join and started giving us little jobs.
Patty:  We were just enamored of him and largely owed our introduction to bees to Ed and Anita.  Following his instruction and joining the BYBA opened up so many avenues of beekeeping that we wouldn't have explored were it not for this community.  As a result, we became programmers for the club.  We started attending Eastern Apicultural Society meetings and well, more to come on that.  Maybe a second interview?
Tam: Yes! We should definitely do Interview Part Two!
Serge: The core group of the BYBA got together to form what they wanted the club to be.  They wanted a hobby group – not commercial – but a club about helping to promote beekeeping to the general public.
Patty:  More NPR-like, not selling, but a forum for sharing mutual interests, educating people,  and sharing resources.
Serge: When Patty and I were doing this, the major benefits were very community based.  We all learned from each other.  Doing things together made beekeeping more interesting…easier.  It just made everything better.
Tam: I've only been a member of this club for the "during pandemic apocalypse" times.  I really am looking forward to getting together with other people in the club for honey tastings…I don't know…maybe an afternoon where we can all have corn muffins with honey-butter and fancy teas sweetened with our own bee gold!
Patty:  The camaraderie of the BYBA is still there!  I look forward to the pot-luck supper and silent auction.  There was a push to do this pre-covid two times a year because it was so popular!  Having a night of pure socialization – no lecture, no instruction was so engaging.  You could bid on cool bee products, but the auction was the entertainment in the front of the room.  Everyone in the back was chatting and catching up.
Serge:  The club was a forum for all of this and for making great friends.  It was a win-win for everyone.  We always have great speakers and try to expose the membership to new ideas.  The social aspect of the meetings is always appreciated and everyone always wants more of that.
Tam: Especially now!
Patty:  We were in the Groucho Marx frame of mind before the BYBA- "We would refuse to join any club that would have us as a member!"  This club provides a connection to so much information and a community that has so much knowledge.  We didn't think twice about joining and becoming involved – we said, "Lets try it." and we never felt anything but welcome and stimulated.  Once we fell down the rabbit hole of information exchange and so many levels of expertise…
Serge:  Bees are a great unifier.  It exposes members to so many walks of life.  You learn about botany, biology, woodworking, literature, art, bees, honey, wax, mead making.  It was like a universe of information opened to us.
Tam: You are both out of the state working on your other interests of late.  How do you see yourselves staying involved in the BYBA?
Patty:  Definitely in a support role.  We both love bees and have lots of enthusiasm.  We are interested in passing the baton to a new generation.  We need to help new beekeepers come to the club and get involved.
Serge:  The next iteration of the club may not do all of the exact same things, but the club should serve the needs of the CURRENT community and we're both excited to see what develops.
Tam:  How are your hives doing?
Serge: We are more bee-havers of late!
Tam: That's so funny.  Ben Haase, our BYBA President mentioned this in his interview, too.
Serge: We "have" hives.  We are less active -keepers.
Patty:  Everyone has expectations of their bees and what they put into them is all in relation to time and other commitments.  "Having" bees is a perfectly acceptable thing.  Keepers go in with expectations and you can use your skills and experience managing the bees to produce certain outcomes – all based on your knowledge of bee biology and behaviors.  You come to know what they do and how to manipulate them to produce what you want.  Bee-having is appreciating these creatures because of their biology and not expecting anything out of them.  Just having them for the sake of having them.  Obviously monitoring for mites.
Serge:  You can't just leave them alone in a box!
Tam:  I really want to help foster the more social aspects of the BYBA – good friendships, cooperation, sharing resources and knowledge.  What advice do you have for building community and fostering engagement?
Patty:  I think that events are important for pulling in new members.  The Bartlett Arboretum's Honey Festival was quite the honey event of Fairfield County – in sheer attendance alone.  They are independently committed to an awareness of pollinators and their own programs are phenomenal.
Serge:  Once the club starts getting together in person again – we will find the people that have a passion for it – and they will contribute whatever they can.  Also, asking people to do small bits and not to take on an entire chunk by themselves.
Tam:  I would love to get everyone together to taste each other's honey.  Or to figure out ways to use our wax.  Maybe workshops where we can sit together in a room and make mistakes, spill wax on our clothes, make messes together!
Serge:  Yes!  Make candles, make cosmetics!  I've heard that smaller meet-ups that are focused geographically or by topic are sometimes very successful.
Tam:  I don't want to take up too much of your time today.  Should we close and look forward to another interview?
Patty:  To sum up, the club and being a member…working together…it helped me and us become exponentially better beekeepers.  So much knowledge and experience was shared.
Serge:  My take away is that it opened us up to so many things that we would have otherwise never been exposed to except as part of this group.
Tam:  Thank you both for all of your contributions to the BYBA in years past and I hope that we can continue the BYBA with the same sense of cooperation and community.