I've always loved pollinators and I always knew their importance in this world. My Mom and I always put effort into our garden so it could be a safe haven for the pollinators. However, I never thought I would start beekeeping. But I'm glad I did.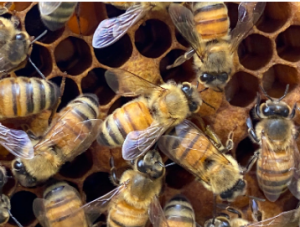 It all started with a book called The Beginners Guide to Beekeeping by Samantha and Daniel Johnson. During quarantine last summer, I started to read the book and I felt so inspired. I then got really into bees and beekeeping and looked for everything on the internet that could teach me more. One day, I joined an Audubon zoom about bees and at the end, they recommended the Backyard Beekeepers if anyone wanted to start beekeeping. I instantly researched it and I found the Wannabees Program. I contacted the director of the program, but due to technical difficulties, I wasn't able to reach her. I then saw Mr. Kreitler on the directory and I noticed that he lived in Easton, and that's where the program was. I contacted him and he generously offered to teach me with his own beehives. I was thrilled! The next weekend my family and I were off to the adventure. The first time I held a frame, was one of the most magical moments of my life! I was stunned at how incredible and hard-working each and every bee was, I even saw a little baby bee eating its way through the closed cell into the world. And from that moment on I fell in love with the hobby, the bees, and everything.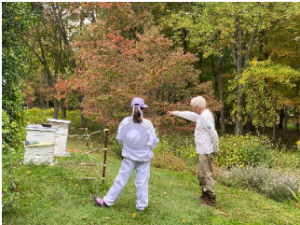 From there on, a whole journey began. It changed my life, I will always remember that, and will forever be grateful for Mr. Kreitler and his generosity and willingness to teach me. Despite 2020 being a challenging year for us humans, starting to beekeep was definitely one of the best outcomes of the pandemic for my family and I.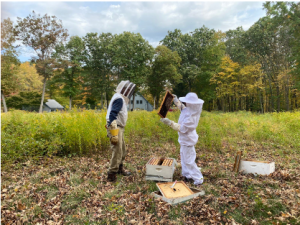 I have always been passionate about nature and helping the environment. I have learned that beekeeping is an awesome way to help nature and our world. Those fragile but impactful creatures sometimes need our help, and taking care of them gives them much more support and opportunities for staying alive and healthy.
Overall, beekeeping has given me so much (including delicious honey, of course!) and I hope to always do it for the rest of my life!
Special thanks to Mr. Kreitler, his family, and bees, and a special thanks to my family for being so generous and supportive of my starting this new adventure and incredible journey!
Thank you all for taking the time to read this, and thank you Back Yard Beekeepers for the opportunity to share my experience with others.
– Kira Ferenc (13 years old, Student Member of Backyard Beekeepers Club)